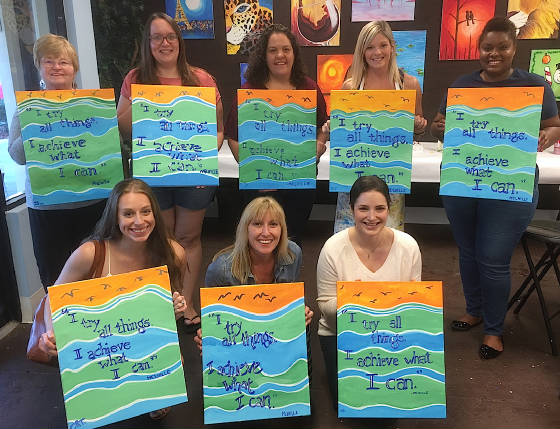 Fundraisers
Utilize our aggressive contribution plan to take home as much as $250 or more!
Call David at (904) 993-9047 to set up a class time that works for you (all options are open except Friday and Saturday nights)
Guarantee just ten participants (increase your reach by letting us open the event to the public)
Choose your painting and start time and we'll put it on the calendar for everyone to register on their own (we'll send you a link to distribute)
Make $10 for each participant in a $35 adult class, or decide on a higher per-person cost to make even more—for example, make $15 if we charge $40. Just be sure your price suits your audience
Take home a check that night! We can hold 27 comfortably, so you could take over $250 back to your school or organization. If you're holding a silent auction at the same time, ask us about taking back a gift certificate and instructor painting!
Jacksonville studio only; other studio programs to be announced

---
Discounted School Pricing
Field trips, After-school, Home-school, Camp groups!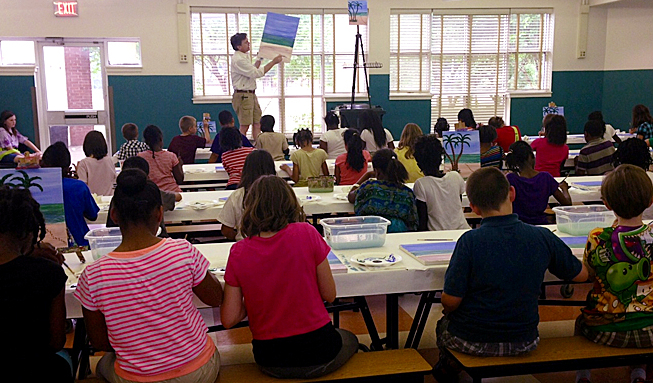 Our per-artist field-trip rate is now just $15 per artist!
Come to the studio for 25 students or fewer (minimum ten artists)
We'll come to you if you have more than 15 artists (same price!)

Book with payment for the minimum or half of the total, whichever is higher. Balance is due the day before your event.
Call David for details at (904) 993-9047! We've hosted or visited hundreds of schools in the last eight years—our unique teaching style is both fun and artistically educational!
To see our painting options, click here and scroll down to our "all ages" gallery
Jacksonville studio only; contact our Central Florida studios for a field trip quote