$10 OFF ALL $35 public adult classes
posted on the Jacksonville calendars!
Paint anytime you want for just $25!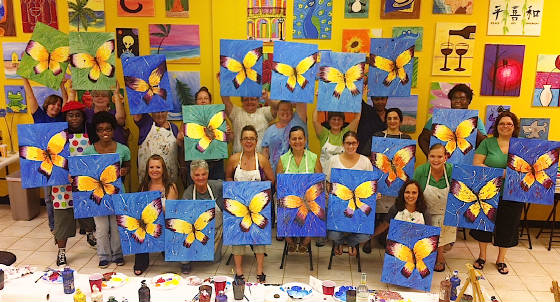 That's right...take as many as you like for just $25.
That's $10 OFF...over 28% OFF. It's my biggest sale ever!
WE'VE MOVED! CLICK HERE FOR INFO ABOUT OUR NEW LOCATION!
Before you register for one of our classes, I want to be sure you understand what Yes You Canvas! and I are all about. We're not like other places that you might think are similar. Please read this before you consider registering.
If you like what you read, here's how the discount works: When you put a $35 public class in your shopping cart, you'll have reached the minimum required to use this coupon code: YYC10. Enter that code and your shopping cart reduces to $25. If you book two seats at once, or two classes at once, your cart will reach $70 and you can use the code YYC20 to reduce the total to $50. (Not bad for date night, huh?)
CLICK HERE to get started by going to the Jacksonville calendars!

The coupon codes can be used as many times as you like! Give them to your friends...I want everyone to have them and use them. If you want to book more than two seats at one time, just make separate orders. (If you want to book lots of seats in one of our public adult classes, contact me!)
That's it! Copy those codes and click here to start pasting!
Thanks!
David

(The coupons are for Jacksonville adult classes open to the public as published on our calendars.)