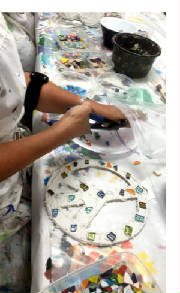 NOW IN JACKSONVILLE!
Join us Monday evenings for
Mosaic Mondays
, a terrific new option for all ages!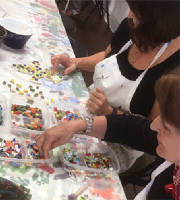 We've developed special techniques that allow you to create your entire mosaic in a single sitting—including the grout!
We'll send you home with easy instructions to buff and file your mosaic the next day so you can enjoy it forever!
All mosaics are approximately 9 to 10 inches and cost $25.
All ages are welcome, and seats are limited in each session to maintain the most comfortable "workshop" environment.
Details:
You must pre-register on the calendar.
Because the mosaics are done at your own pace, it's not necessary to arrive right at 7:00. The studio will be open from 7:00 to 9:30, and each mosaic takes approximately one to two hours depending on how much detail you wish to apply. (Instruction is individualized.)
All ages are welcome, including pre-schoolers. As always, all minors in the studio must have a responsible adult present (over 18), but that person does not need to be participating.
If you have a preference of shapes before you arrive, please enter it in the "comments" box in the shopping cart when you register. The 12 options are shown below.