Now in Baldwin Park...classes posted here!
We've brought Yes You Canvas! to Orlando! Visit our Facebook page to see thousands of new artists of all ages who have discovered that it doesn't take any experience to paint a masterpiece...just the desire to do well!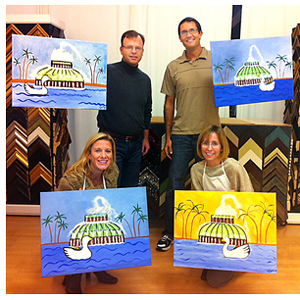 Our classes are led by star artist Summer Wright and her team in Baldwin Park (click here for directions). Click here to register on our Orlando calendars:
Morning kids' paintings at 11 a.m. every Saturday and on school holidays. Click here to learn more.

Evening adult paintings at 6:30 p.m. on Fridays, Saturdays, and selected weeknights. Paint along with us for about two hours on a big 16" x 20" canvas!

Special paintings at other times during the month. Check the calendar to see what's up this month!

If you have any questions or would like information about birthday parties and other private events, feel free to email Summer or call her at 205-514-5392