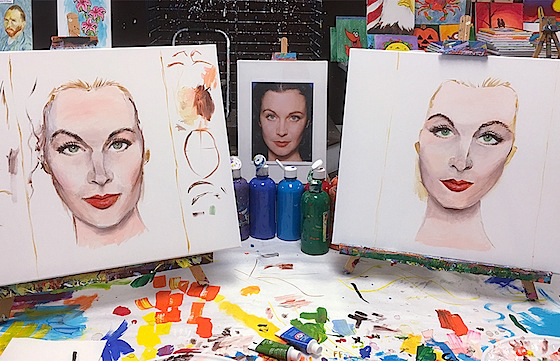 I've had many requests to teach portrait classes by friends who have seen the mural I'm creating at the studio. After several months of trial classes, I'm excited to be offering my first "how to" traditional painting classes!
The classes will last two hours each; after your first one, you'll continue building upon your progress in subsequent ones you take. Take one, or take many!
Classes are offered Wednesday afternoons from 1:00 p.m. to 3:00 p.m.
Some weeks the schedule may vary, but this will be clear on the calendar.
Things to remember:
All materials will be provided, including special brushes as needed
We will be painting with acrylic but discussing oil as desired by participants
Everyone who is present must be registered for the class; no watchers or waiters!
Participants must be 16 or over, but 16- and 17-year-olds require a registered adult to also be present and participating (no minors may be left alone in the studio)
Thank you! I'm looking very forward to this after eight years of offering only our paint-along classes, which of course will continue!

David Durrett
(904) 993--9047