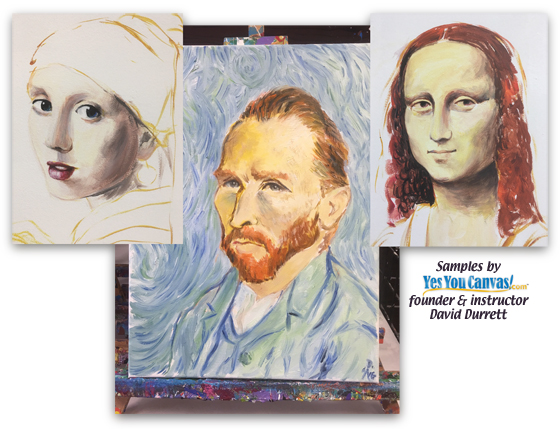 I've had many requests to teach portrait classes by friends who have seen the mural I'm creating at the studio. After several months of trial classes, I'm excited to be offering my first "how to" traditional painting classes! The classes will last two hours each and carry a specific focus named in the class title:
"Technique"
"Eyes"
"Features"
"Bringing it Together"
As a result, you'll know exactly when the classes you want to take will be offered, and I recommend you take at least one each of the four initial offerings. To develop further, you can take a class multiple times, improving as you go!
The classes are $50 each, and you register
here on the calendar
like any of our regular classes. Each class will be offered twice per week, so you can mix and match to accommodate your schedule. If you can't make a class, we'll be offering it again in just a few weeks!
The same class subject will be offered twice per week;
sign up
for one or both:
Monday evenings from 6:30 p.m. to 8:30 p.m.
Wednesday afternoons from 1:00 p.m. to 3:00 p.m.
Some weeks the afternoon class schedule may vary, but this will be clear on the calendar.
Things to remember:
All materials will be provided, including special brushes as needed
We will be painting with acrylic but discussing oil as desired by participants
Everyone who is present must be registered for the class; no watchers or waiters!
Participants must be 16 or over, but 16- and 17-year-olds require a registered adult to also be present and participating (no minors may be left alone in the studio)
Thank you! I'm looking very forward to this after eight years of offering only our paint-along classes, which of course will continue!

David Durrett
(904) 993--9047