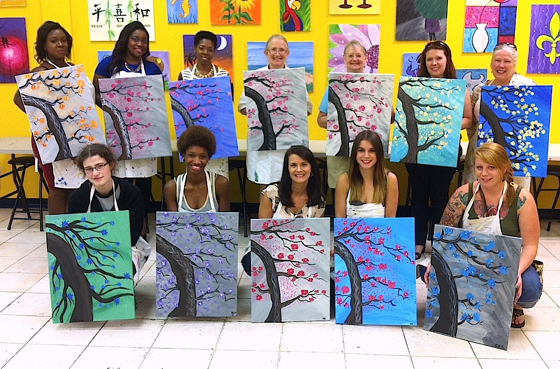 For over seven years, Yes You Canvas! has innovated the "bring wine and paint" experience to make it both fun AND personally enriching for the more than 50,000 new artists we've been honored to welcome into our studios.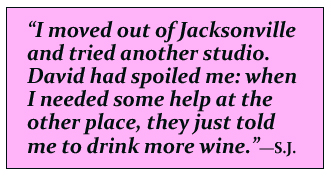 When David Durrett and Summer Wright created Yes You Canvas! in 2009, they worked to develop the basic concept to achieve the one primary goal that was most important to them: that every person who left the studio both had a great time and loved the painting he or she had just created.
You've helped us continue to improve your experience from that very first year, when David worked with moms and kids to create our terrific "all ages" program. Many other innovations have followed, and today all of our studios take great care to offer you the Yes You Canvas! advantage:
Real creative painting with a plan...never any pre-stenciled outlines or hair dryers!
Classy studios with a family-friendly name where you can feel comfortable taking your kids
Same $35 price for all full-size adult paintings...no extra cost for longer ones (where you pay for wasted "drying time")
We'll NEVER rush you through a painting so the instructor doesn't have to be paid extra
You'll never be told to "come back" to finish your painting...we work together to be sure you finish what you started

Spacious studios with seating limited so you don't feel crowded together!
A fair discount program you can plan by: schedule ahead and always save at least 25%...it's like "Buy Three, Get One Free"!
You're welcome to bring wine if you like to adult classes, though we'll never suggest that you need it to appreciate your effort
A fully developed kids' program with regular classes and great birthday options—and the chance to paint with your kids
Classes led by studio owners or instructors who are trained by video on every painting—never "winging" it
Professional and efficient approach to team-building
An experience that's both fun AND fulfilling!
If you have any questions about the experience you'll enjoy at Yes You Canvas!, please contact the owner of the studio nearest you!
Register here to experience the Yes You Canvas! advantage!